Changes for June
We planned small updated, but as it happens, we tested it too long, and rewrote internal tools, particularly, update system. Now during update tracker is testing connections with our servers and selecting the one from which loads goes faster.  Also, we improved the process itself, now you can easily close updates tubs, or open it from another device and update will continue as usual. There are not so many features, but all of them are useful.
Domains tests for an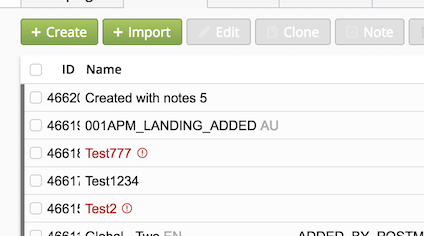 It takes too long to use scripts for domains test for ban, and from time to time it bothers arbitrageurs. Now tracker will let you know by itself that it is time to change domain names for more clean ones.
In landings it looks like that.
In domains like this:

To make check work one need to indicate in settings your Google API Key. Where to find it, add it and all other questions answers are in documentation.
Notes 2.0
Everyone are bored of old notes without "beauty", and we added it a little bit. Now in notes you can use underlined bold italics, insert screenshots of your profit rates, motivating quotes of the great names of history and lunch shopping list (to not forget).
Also, by numerous request we added notes to the offers and landings editing window.